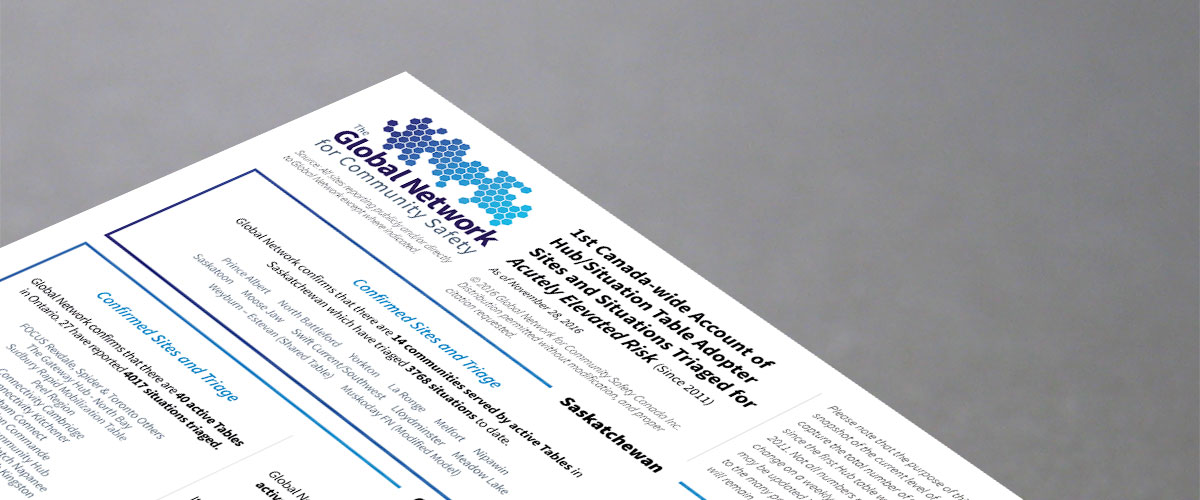 As a private firm of professional innovators and advisors with deep roots in these models, Global Network continues to support the advancement of multi-sector intervention and CSWB across Canada and in the USA. Two questions our team often encounters are, "How many communities have adopted this model?", and, "How many lives have been touched by these supportive multi-agency interventions"? As such, we were inspired to conduct this national accounting and delighted with the cooperation we encountered. It seems many others were facing the same questions on a regular basis.
We obtained our confirmed numbers directly from local champions and provincial officials from right across the country. One aim of the release of our info-graphic was to stimulate more accuracy for the future, and we are pleased to report that in the days since the release, already several communities have reached out to help us further refine our data.
We are committed to keeping the Canada-wide Account available to all. We will update this picture dynamically as more information comes our way, and it can be accessed and downloaded at any time from this page.
We invite any adopting communities that may wish to make this information part of their regular local media announcements to do so with our full permission. When sharing, we ask that you do not modify the info-graphic, and that you please cite this study wherever appropriate.
Feel free to contact us if you have more information to share, or if you have any questions about this study and the state and progress of these collaborative Community Safety and Well-being (CSWB) models in Canada.